Want to know the difference in your love life when you give Green Compass Awaken Intimacy Oil ($49.95) vs. $100+ roses?  After a week, the roses will be dead, but your romance will continue to Bloom! 🙂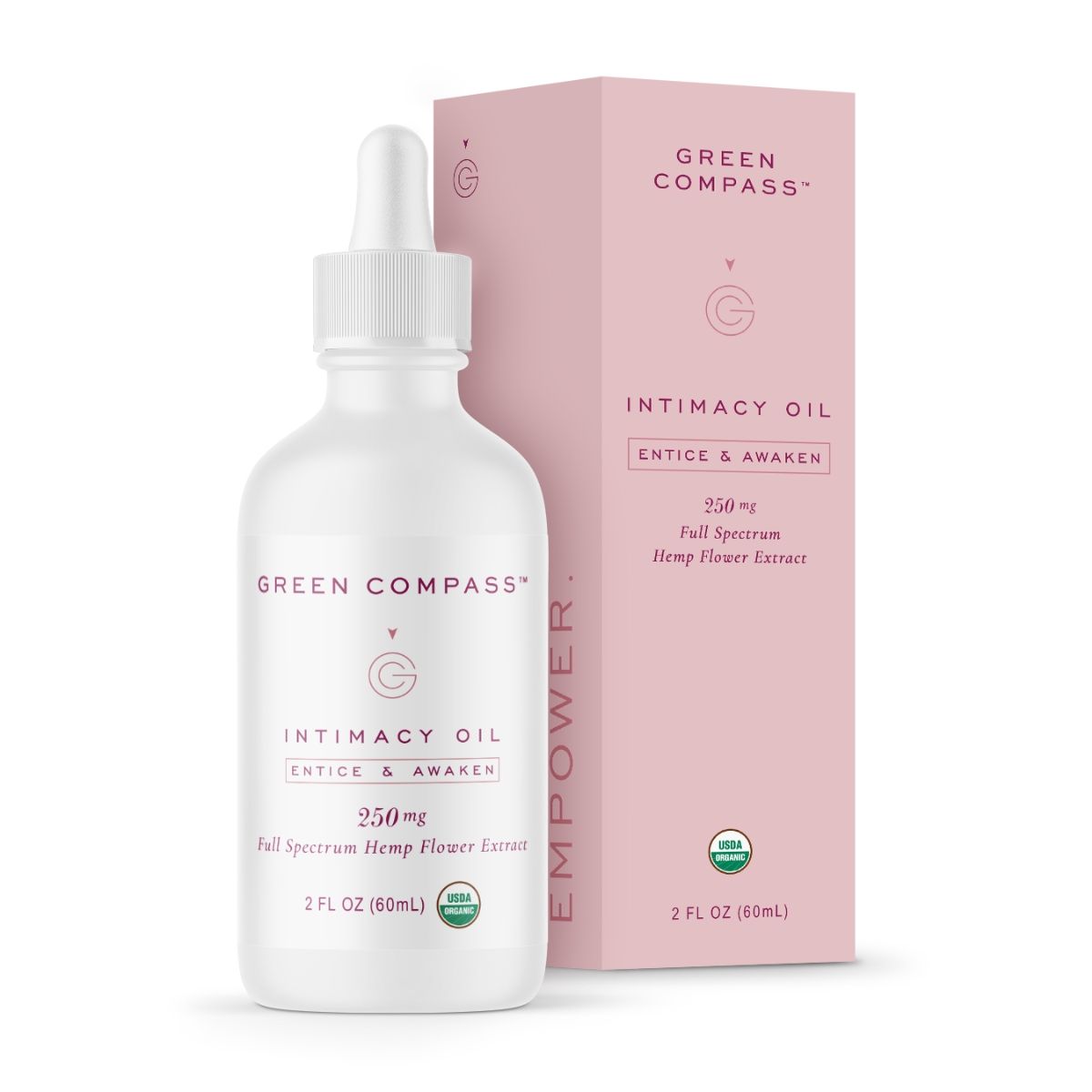 It's a topical and yes it can be placed inside of the body. It is FULL SPECTRUM (Federally legal full-spectrum products will always haveless than 0.3 percentTHC) and the THC can make a big difference down there. Just do a little Google search on its benefits.
When it comes to topicals, THC-infused intimacy oil won't get you high, but it can take your sexual pleasure to new heights. By boosting blood flow, it can help increase sensation (in a good way) while simultaneously increasing your natural lubrication. This can help ease any discomfort you may normally experience during intercourse. With the addition of THC, the pleasure-boosting properties of an intimacy oil are made even more intense.
Your pleasure is yours to own. That's why Green Compass specially formulated a clean, plant-based, USDA organic certified Intimacy Oil that increases pleasure , elevates sensation, heightens awareness of intimate areas.
AWAKEN was crafted for every body type and made from jojoba oil, coconut oil, and organic hemp flower extract.  Moisturizing and hypoallergenic, it's sure to leave your pH balance intact and sensation levels high. #GYNOapproved
It's more than just for lube y'all.  Our personal reproductive health is an intimate area of health and wellness and we should be good with talking about that.  It's not just about S-E-X.  CBD oil could help with many things. Officially? Jury is still deciding… you know this plant and politics!
Discomfort for female issues
Reducing skin discomfort
During time of the month on tampon (use organic)
Increased blood flow
Pelvic floor work
Dryness
Help with partner
This oil doesn't does not include any fragrant oils. If you want to stimulate a bit more and spice things up, try our mint tincture directly on your "hot spots" (and don't make me spell it out for you).
HOW TO USE:  Apply 1-2 droppers to intimate areas to heighten stimulation and awareness. Shake well before use and do not use with latex. Store in a cool, dry place away from light. Ask a medical professional before use.
**Reminder** If you are drug tested and using it IN YOUR BODY, it could trip a test positive. So if you are, and you're really excited about this, please choose an isolate CBD natural tincture instead. It still works well.